Reverse your PCOS in 12 weeks
The 12-week program is based on 4 main pillars (Food, Movement, Lifestyle, Addressing Symptoms) supported by personalising the program for each Cyster, LIVE Sessions and having a strong and supportive community of Cysters who are going through the same journey as you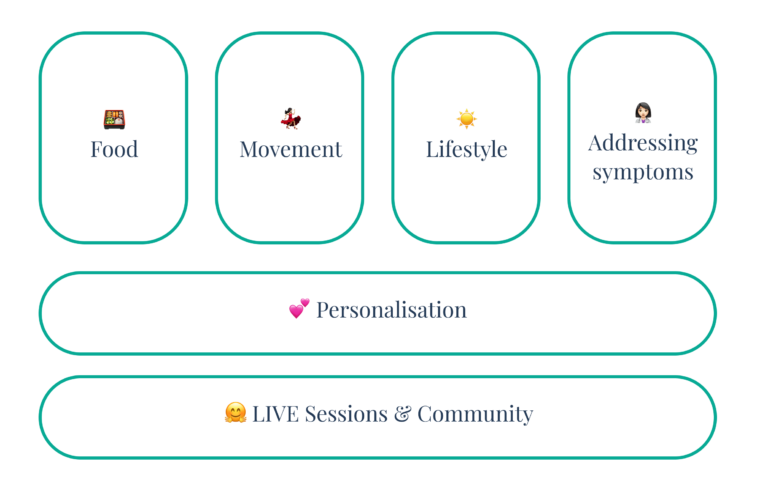 The 12-week program is based on 4 main pillars (Food, Movement, Lifestyle, Addressing Symptoms) supported by personalising the program just for you along with LIVE Sessions with a strong and supportive community of Cysters who are going through the same journey
Once the program ends, you will continue to have access to the community forever and you can also reach out to us anytime post the program for help or doubts
I might be traveling during the 12 weeks, what do I do then?
I will educate you on how to pick your food and easy tricks to manage your PCOS while traveling. Since I'll be there with you virtually, I will be able to guide you whenever you need. We will also have a session on "How to eat when you are out", this will cover everything you need to know.
I don't know how to cook, will you help with recipe?
Absolutely, I will provide you with simple and quick recipes that is similar to what you are used to eating
I live in Hostel/ PG, how will I manage?
Your meal plan will be personalised based on what food is available around you. So we will work around your Hostel / PG food menu.
I am currently trying IVF, how will this program help in my conceiving?
Following this Program has increased the chances of getting pregnant by 95% for Cysters who previously joined us with the aim of getting pregnant.
I live in another country, How will you help me?
We have helped cysters all across the globe from places like USA, Canada, Europe, Australia, UAE and many more. Our check-in calls will be planned so it's at a suitable time for both us to talk. The meal plans will be based on what food is available locally and around you. The power of the internet allows me to help you no matter where you live 🙂
Do you take instalments? and How do I pay?
No. It's a one time payment that you need to pay prior to starting the program. Fill out the form here and I will reach out to you with the payment details.
Will I stop having facial Hair? Will my hair fall stop? Will I lose weight?
Yes! Yes! and Yes! All of your PCOS symptoms will reduce because following the program will balance your hormones and your body will go back to being healthy and fit. This will lead to decrease in excess weight, increased hair growth, and reduced hair fall.

 
Take the first step in reversing your PCOS today